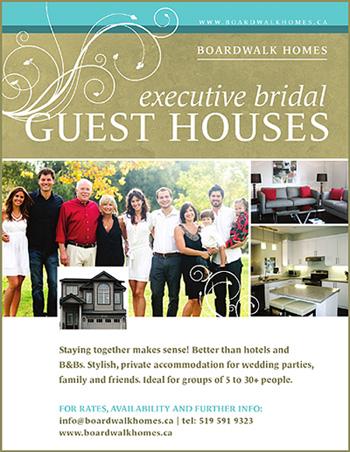 "Luxury, private rentals at Boardwalk Homes treat out-of-town guests to family time and a home away from home."
Guest accommodations
Giving Kitchener-Waterloo brides and grooms a new way to look at guest accommodations, Boardwalk Homes properties are a bit like having your very own private five star hotel. And whether it's for three days, or thirty, all your guests have to do is move in and enjoy.
Each home comes with natural down duvets, a fully equipped kitchen, large dining room, a cozy fireplace, a deck and yard for the kids to play in and more. They're close to all of the city's best shopping – and if you've got a craving for noodles or sushi, they've even got the chopsticks!
Boardwalk Homes is a company that seems to have thought of everything you could ever need while you're away.
Now, they are looking forward to helping brides accommodate their out-of-town guests throughout the week or weekend of the wedding.
Let us explain…
Private & communal spaces with all the perks
Imagine staying somewhere with all of the perks of a high-end hotel; pristine accommodations, unobtrusive staff, and all of the amenities that you don't want to have to bring along with you like towels, linens, natural down duvets, hair dryers, shampoo and conditioner. Plus, the little comforts of a Bed and Breakfast; everything you need for breakfast each morning (even including premium coffee beans and a grinder), a living room with a fireplace where you can unwind, all with that cozy home feel.
Now picture all of this in a private, three story detached house, spread out over 3000 plus square feet with five living spaces, five bathrooms and a fully equipped kitchen where your entire group can make meals together.
Private bedrooms with communal living spaces are perfect for extended families who want to stay together.
Everything you would need, whether you're staying three days or a month; like free internet, digital cable, local phone, business station, laundry and central air. All of this for a price that is easily the most affordable way for families and big groups to stay together.
So far, Boardwalk Homes is thrilled with the feedback she's received from guests of Boardwalk Homes.
They've had comments like 'we'll never have our family or friends stay at a hotel or B&B again when we come to KW and 'this is better than a five star hotel'. Guest houses and chalets are an age old idea, and Boardwalk Homes does it the best. That's exactly why families and friends love it. It's private, spacious, carefree, comfortable, and best of all, high-end and low-cost! Where can you find all of this together, in KW?"
Babies, backyards & brides
Boardwalk Homes come with a deck and yard where you and your group can relax for the afternoon.
When the kids start getting bored, they can run outside to get rid of some of that pent up energy. If they come inside covered in mud, just throw their clothes in the washer and dryer like you would at home.
When Grandma is ready for bed, she can easily head up to her room without the logistics of getting her back to her hotel room early. And best of all, the bride doesn't have to worry about who's looking after Grandma!
Skip the restaurant meal and have a sumptuous dinner on the backyard deck or by the fireplace with loved ones you might not have seen in months!
Where else are you going to find that kind of convenient experience?
Location, location, location
Boardwalk Homes' location can't be beat.
The properties are in the heart of Kitchener-Waterloo, right by 'The Boardwalk', one of the largest shopping districts in the area. It's easy for your guests to pick up some groceries and last minute items before the wedding.
Walmart, Lowe's, banks, Shopper 's Drugmart, Blockbuster, Winners and more are within walking distance.
If they want to grab a coffee or lunch, guests have easy access to Starbucks and Tim Horton's, and to a wide range of restaurants from national chain pizzerias to award-winning bistros.
Private one bedroom suites coming soon…
So far, Boardwalk Homes has been a home away from home for all different types of people: professors teaching at the University of Waterloo and Wilfrid Laurier University; corporate executives at high tech companies; grandparents visiting for the week, and; politicians spending a few days in the area.
Their guests have come from all over the world including England, China, the Bahamas, US, Vancouver, Calgary, the Muskokas, Toronto, and the Maritimes.
For people that are looking for a little more privacy or something extra special, Boardwalk Homes is also opening up private, one bedroom suites this coming fall.
Luxurious, European high thread count linen, natural down duvet, 50 inch flat screen TV, fireplace, granite counter top kitchen, hardwood floor…you name it, you'll have it.
Bonding has never been better…
If your family is coming from out of town, chances are they might only see each other a couple of times a year. Boardwalk Homes gives them the perfect place to spend some real quality time together. They'll have a house to themselves where they can hang out, cook dinners, play board games and celebrate your momentous occasion!
Group savings
Boardwalk Homes' prices will be a big selling point for any bride and groom.
Boardwalk Homes is offering the entire house for $499–799 per night plus tax (number of rooms varies. The price is based on a 3-night minimum rental period. Shorter period negotiable). They've got two houses so you can rent both if you have a group of thirty or more people. Or, your family can rent one of the houses on their own.
You will spend less than what you would in a hotel, but have a whole lot more private space to use than just a hotel room. Your family can mingle and entertain in the large eat-in kitchen, 4 additional living areas, and most importantly, you will save a huge amount on restaurant meals!
Walking you through it…
Give Boardwalk Homes a call or send them an email and they'll reserve the house for you.
You can also check out the website for some fantastic pictures of the houses and lots of information about Boardwalk Homes.
Next, you'll provide a down payment to secure the house for your requested dates. They'll get everything ready for your guests and you can strike one major thing off your list.
It's that simple!
Before your guests arrive, they will receive all of the details about their stay, so that they know exactly what is included and what to expect before they arrive.
And if your guests decide they've had such a good time that they want to stay a little longer, and Boardwalk Homes has availability, they are happy to accommodate an extended stay.
Other details
Each house has eight bedrooms and five bathrooms. So hosting groups of thirty plus is no problem!
A refundable damage deposit is required (which can be paid by pre-authorization on a major credit card).
Boardwalk Homes requires a one night equivalent deposit to confirm your reservation. Your deposit is refundable if cancellation is received 30 days in advance of the check-in date.
Boardwalk Homes can be rented for as many or as few nights as you need them. During peak periods, a minimum stay of three nights is required.
Homes come with fireplaces, back yards, decks, fully equipped kitchens, laundry, contemporary furniture and much more.
As soon as you know you need hotel rooms for your out-of-town guests, give Boardwalk Homes a call instead!
HST applies