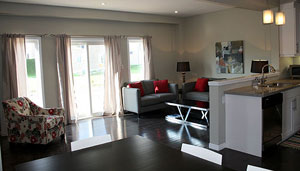 Whether you are relocating, have had a job transfer or simply looking for a nice vacation home, a short term furnished apartment or short term rental accommodation is always a better alternative to staying in a hotel room.
Short term rental accommodations offer visitors the chance to get a "feel" of what it's like to live in their new digs – away from the crowds and concierge of hotels. Additionally, they provide more space and are infinitely less expensive.
Here are a few reasons to join the growing ranks of families who demand more value from their "home-away-from-home."
Benefits of Short Terms Furnished Apartments
Short term rentals provide quiet, peace and privacy. Try getting that in a hotel!
Furthermore, they are available in various destinations, such as a furnished accommodation condominium in a major city or a rustic mountain cabin in Big Bear, California or in Gatlinburg, Tennessee.
Rental accommodations on the beach are extremely popular. Aside from the obvious benefits, like enjoying some of the world's most awesome beaches from the Mediterranean to Hawaii, they typically have easy access to a vast array of restaurants, shopping, as well as exotic, panoramic views and romantic sea breezes.
A short term rental apartment is ideal for business trip conferences; some short term rentals even include laundry service to oblige larger groups. Other amenities, such as free breakfast are often part of the package. Your employees can yield even greater savings by preparing simple meals in a furnished accommodation.
Tips for Finding Short Term Rental Apartments:
It's never a good idea to trust the website's reviews-some owners delete negative posts. Instead, look online for independent reviews through a popular search site, such as Google. Look for lodging forums and rental apartments in the city you are considering and always request recent photos and references.
Try to book through an owner or agency with has multiple properties. Should there be an issue with your unit; chances are they can quickly provide you with a substitute. Moreover, at times the alternative offered is even better for the same price. Ask if they have a secondary contact.
Make sure you understand all the agency fees. For example, some charge for house cleaning services. Others require a returnable security deposit; ask for written details on when you can expect your deposit back. Some go through several property managers; check if your rental accommodation property of choice is cheaper with them.
Get trip insurance in case of cancellation.
Finally, if they are responsive to your questions, and you are comfortable with the agency's terms, follow these tips as well as your gut. You will have enough memories to last a lifetime.