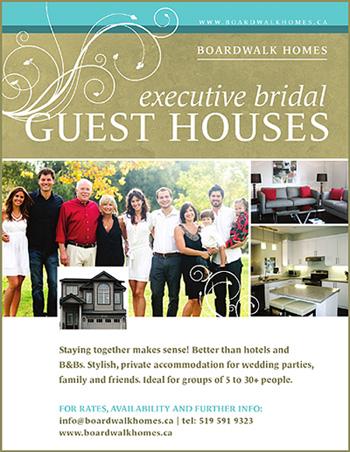 "Luxury, private rentals at Boardwalk Homes treat out-of-town guests to family time and a home away from home."
Guest accommodations
Giving Kitchener-Waterloo brides and grooms a new way to look at guest accommodations, Boardwalk Homes properties are a bit like having your very own private five star hotel. And whether it's for three days, or thirty, all your guests have to do is move in and enjoy.
Each home comes with natural down duvets, a fully equipped kitchen, large dining room, a cozy fireplace, a deck and yard for the kids to play in and more. They're close to all of the city's best shopping – and if you've got a craving for noodles or sushi, they've even got the chopsticks!
Boardwalk Homes is a company that seems to have thought of everything you could ever need while you're away.
Now, they are looking forward to helping brides accommodate their out-of-town guests throughout the week or weekend of the wedding.
Let us explain… [Read more…]